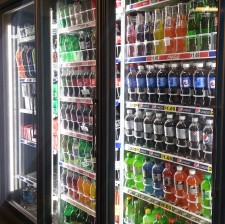 Affordable retrofit solution delivers big energy savings and rebates with simplicity.
Rolling Meadows, IL, June 9, 2016 (Newswire.com) - Emium Lighting has introduced a perfectly engineered solution for food and beverage retailers looking for an economically smart way to reduce the energy wasted by their heat emanating fluorescent refrigerated case lamps. The new Emium LED refrigerated case light is certified by Design Lights Consortium under the Refrigerated Case Luminaire category, but its streamlined design and price make it feel more like a retrofit lamp.
Its simple design stands somewhat in defiance to its uncompromising quality and performance features. The LED luminaire distributes light in glass cases with a beautiful brighter and more uniform look across package facings than its traditional predecessors.
"Within any fluorescent lit refrigerated display case, there is an unnecessarily high level of energy waste, like a forgotten running water hose. The Emium LED case light provides a simple inexpensive way to reduce this flow to a trickle without sacrificing product presentation."

Michael Cantarutti, Director of Operations
Beyond its strong physical and performance qualities, the case light is designed with universal properties that simplify potential order and inventory complexities. There is no need to worry about left/right/center doors, because the same fixture will work without modification in any position. The only decision to make is with regard to the length, (3', 4', 5' or 6').
The Emium LED refrigerated case light is easy to install, does not require an external driver, and is available in outputs from 1,320 to 3,300 lumens.
The LED case light wires direct to 100-382VAC input lines. It comes with a 5-year warranty, and has a rated lifetime of > 50,000 hours. Certifications include UL, cUL, CE, DLC, NSF, FCC, RoHS.
Emium Lighting was established in 2009 with the goal of building a company that provides cutting edge quality LED lighting technology at highly competitive prices to the U.S. market. The company's streamlined business model, accompanied by strong collaborative relationships with its manufacturing partners and expertise in technical manufacturing has enabled the company to quickly become the "no regrets", LED lighting provider of choice for single and multi-site businesses throughout the country.
If you would like more information about this topic, please contact Michael Cantarutti at 224.735.3435 or email at info@emium.com.
Source: Emium Lighting, LLC
Share: